Please help our dogs by donating
what you can!


(application)











If we don't have
the right dog
for you,
please visit
these websites:

L.A. Animal Services


ANIMAL CRUELTY TASK FORCE HOTLINE:
(213) 847-1417

IMPORTANT
INFORMATION
on pet air travel:
click here





ADOPTION DAYS at Ace of Hearts

ACE OF HEARTS ADOPTION SCHEDULE for 2013
The following are the dates for our adoptions through June 2013:

March 30th
April 13th and 27th
May 11th and May 18th
June 1st and 15th
July 13th and 27th
August 10th and 24th
Sept 7th and 21st
Oct 5th and 19th
Nov 2nd and 16th


We do show dogs on the weekends that we are not at Petco, after the interested party has filled out the online application (by appointment only).

IMPORTANT - because our schedule is subject to change, please email us if you have any questions, and we can fax you the current schedule and info.
Our adoption days are a great way for you to meet adoptable dogs in person.

The adoption process is not quick, because we want to be sure our dogs find the perfect homes. Be sure to read our

'How to Adopt'

page for more info.

Whether you're looking to see a specific dog you spotted on our

Petfinder site

or just want to meet our available pups, you're sure to enjoy visiting with our dogs!

The pups enjoy adoption days too! Many of them are also in need of temporary foster homes --

click here for more info

.

If you don't find the perfect dog for you, or are not ready to adopt, you can still

volunteer with us

- your help will make an enormous difference in the lives of these rescued dogs!



Ace with founder Kari Whitman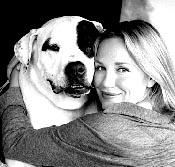 Our dogs are listed with